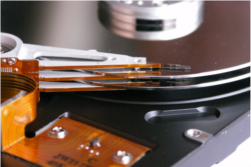 For the second time in the same week the problem presented was a difficult to comprehend situation. Both of the individuals had embarked on getting their data back by dismantling their hard disks. True, hard as it may be to comprehend, evidently the hard disk was not working (ie not accessing the data it contains) would be solved by disassembling the component and taking it apart.
Fact that data is invisible and cannot be accessed by osmosis through the finger tips of the would be engineers somehow may have escaped the attention of the individuals whom had embarked on taking apart their hard disks to find out what has gone wrong with the said hard disk?
Sad fact is through their exploratory diagnostic efforts both of the individuals had ensured the certain demise of the data contained on the relevant hard drives. The data contained in all probability were; irreplaceable photographs, letters, statements, or the favourite music tracks and family videos. Considering the potential value of the data, which at times could be classed as priceless. The action of the individuals to explore their hard drives in open heart surgery fashion could only be classed as wilful negligence and deliberate vandalism.
The reason for such a conduct perhaps could be based on many reasons, however preserving the data is not one of them. Because any individual with least bit concern for their data would have sought to commission the help of the professionals who have more than one screw driver and time in their arsenal to tackle the malfunctioning hard disk problem.
Fact that hard disks are comprised of plates and heads neither of which can be of any use for any would be open hard disk surgeon aside, often the point going missing is that hard drives are assembled in environments which are hundred time cleaner than any operating theatre and the mere act of letting the ambient environment to mingle with the tightly regulated and controlled inside assembly of the hard drive is the proverbial death sentence for any hard drive . In fact the simple act of disassembling the tightly put together hard disk, will mess up the original head alignment by mere fact of removing the head screw to the lid.
Evidently "just to have a look" policy is a costly "look" and it certainly risks the loss of the data.
So next time you find your hard has stopped operating, the best course of action would be, find/buy an antistatic bag and place the malfunctioning hard drive in the bag and bring it to Aquila computers, where we can get into action and recover your data for you, don't gamble with your data, make sure you are looking after your data responsibly and diligently.